Behind the Scenes: Programming for a project
Before we look at design development and the overall "look" of a space, there is a lot of calculated thought put into ensuring the space will meet the needs of the client. What does that look like? Laurette will take you on a behind the scenes tour of this process called Programming. 
The work I most enjoy blends my love of math with creativity to solve all forms of complex puzzles.  My profession provides the perfect mix of both, especially when developing the first phase of a project, referred to as programming. A space or building must first address function, whether it's a residential or commercial project. This phase is more complex for commercial spaces which require careful analysis long in advance of any design or drawings. This is an area of specialty within my practice as I focus on larger commercial projects – workplace, institutional, airport and hospitality.
No matter what size of space or building involved, the process includes gathering an understanding of a client's business goals, strategic plan, current layout, future space requirements, space standards (if applicable), planning principles, and the functional relationship of the spaces within. Understanding the 'why' behind the detailed quantitative and qualitative questions is key to planning for the future.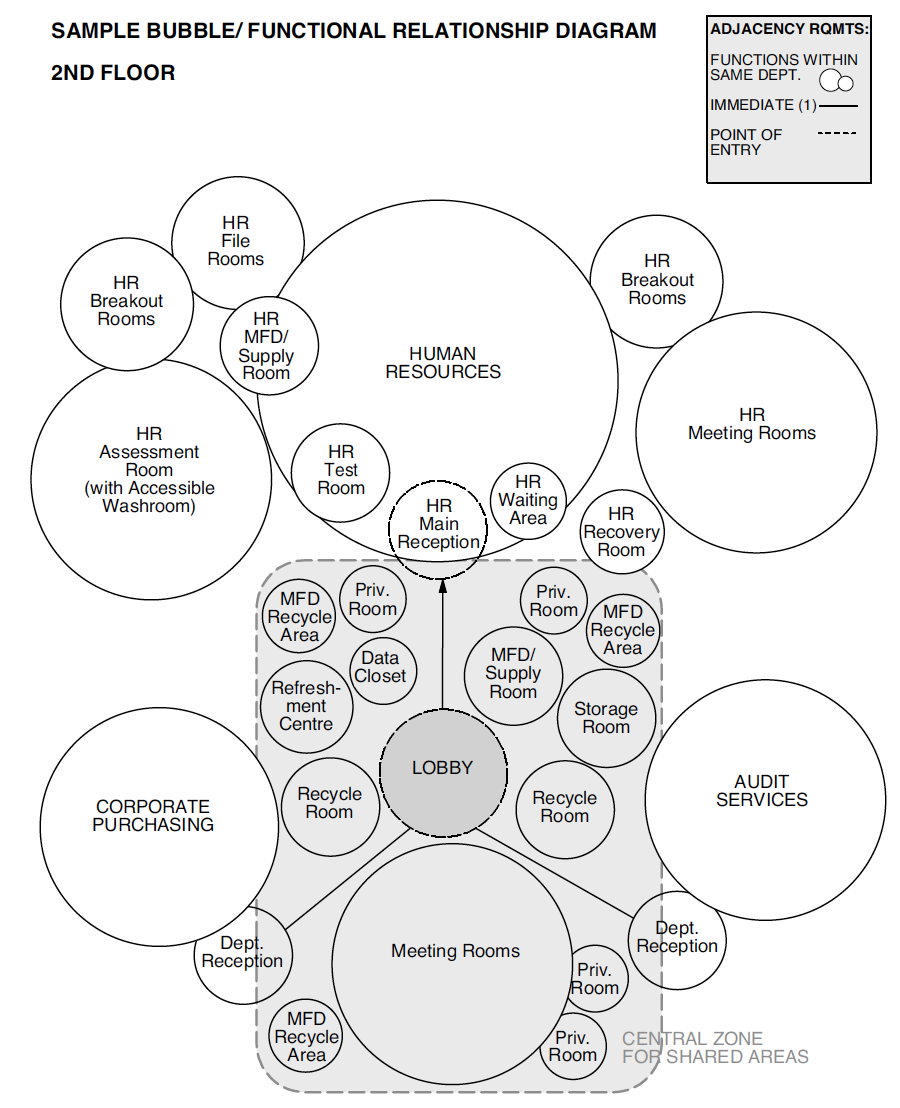 My clients are often tenants, developers or commercial realtors first looking to determine how much space they require. With a customized Excel tool I then develop their requirements, often summarizing all departments' or divisions' needs on a summary page.  For smaller projects of 10-35 people this may result in 2 pages. A past project of 900 people resulted in a 56 page fully linked Excel workbook.  Future modifications of the document are then simple to make (adding or decreasing staff, moving a department out of the building, consolidating work groups, alternative workplace strategies, etc.). From there I can determine how many floors may be required (stacking plan) along with the key workgroup proximities or individual functional adjacencies (bubble diagram or functional relationship diagram). Other planning tools such as an adjacency matrix and decision matrix can help to gather and convey this information on more complex projects.
As part of the programming and pre-lease phase, I'm often asked to tour the various potential spaces for lease with the client and commercial realtor. The space requirements document assists to locate the correct amount of space. It's very important that all involved clearly understand the difference between the terms Programmable, BOMA Standards Usable and BOMA Standards Rentable noted in the lease documents (a whole other article …). When working on the space planning phase of a project, as an interior designer I am most concerned about the available floor area where I can place furnishings and equipment (which excludes the depth of the window sill, perimeter heating units, thick columns, elevator lobby area, main circulation routes to shared washrooms, pathways to fire exits and mechanical/electrical rooms, and so on). I first verify the available area on the floor plan and compare it with the lease information. Once we've narrowed down the preferred sites to 1 or 2, I may be asked to develop a test-for-fit plan to determine which location will best accommodate the client's overall space and program needs.  Following completion of the lease negotiations, the project moves into the planning and detailed design stages through to implementation.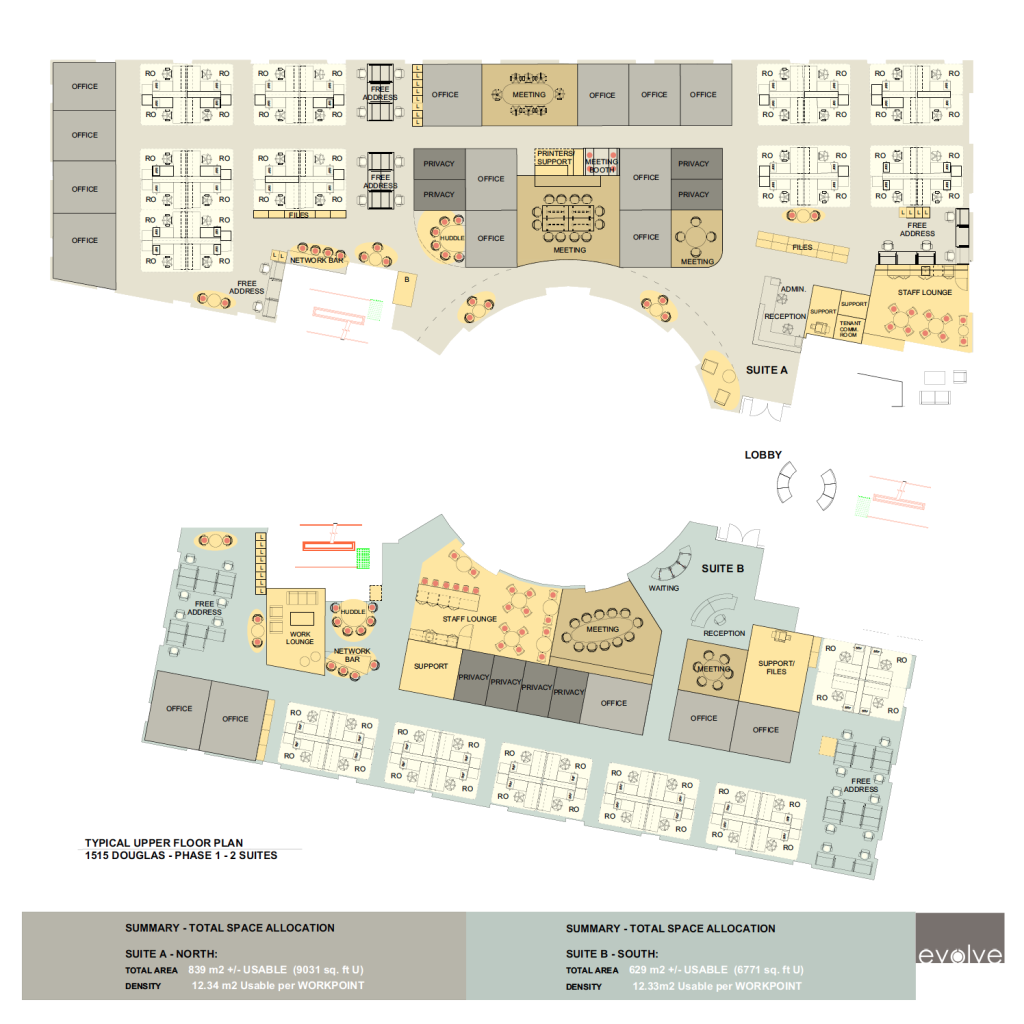 A building floorplate analysis may be requested in the pre-construction phase. It also includes programming skills. At the developer's request, I will provide a detailed analysis of the preliminary architectural drawings, which often involve a multi-storey development. My report and schematic drawings include considerations for design changes to improve the functionality, adaptability and efficiency of the usable floor areas. This may include key features such as the atrium (shape and size), the location and shape of the core services (elevator, common washrooms, stairwells), depths of the building (to comply with LEED requirements and support workplace design), column spacing, size and placement, ceiling grid and mullion locations. This work informs the developer and the architectural team on the next stage of design development. A second or third review may follow as the plans evolve. The opportunity to help shape the fundamental design elements of major buildings that will stand for decades is both exciting and meaningful. All future space planning projects in these developments will benefit over the lifecycle of the building.
Thorough programming is important for successful design results. Many of the same questions and processes apply to projects of any given size, and are required to develop a solid understanding of the final design solution.
by Laurette Fagnan of Evolve Planning & Design Inc.